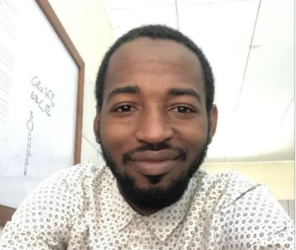 As I was moving forward in my academic career and particularly after arriving in the biological sciences domain, I started developing a specific interest towards research in health sciences. My training that brought me firstly in the faculty of sciences of the Ngaoundéré University where I obtained my bachelor degree in animal biology has helped me sharpening my attraction towards microorganisms in general and parasites in particular.
My second stop after my bachelor degree and one of the most important was at the School of Health Sciences of the Catholic University of Central Africa. During my training there, I firstly intended to continue my path in biological sciences but this time specifically in the clinical aspect. I have then chosen to develop my skills in health sciences particularly in immunology with a specific interest in clinical parasitology.
For my master thesis, I did a research on the expression profile of Interleukin 4 in children infested by Schistosoma haematobium at Matta-Barrage, a locality of West Cameroon. This study has been the first one I have realized myself and has confirmed my choice of being an actor in the research field.
Nowadays, my interest focuses mainly on understanding host-parasite interaction particularly in schistosomiasis that is now at the center of my interest. I seriously think that the Laboratory of Immunobiology and Helminth Infections headed by Dr Justin Nono Komguep is actually the best place for me to continue the development of my skills and knowledge in the field of schistosomiasis research.